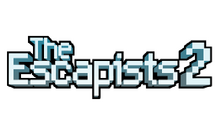 The Escapists 2 is a sequel to The Escapists and the third game in the The Escapists series. The game is being developed by Team 17 and is set to be released on PC in 2017. The game is set to have more detailed sprites and tiles, more ways to escape, more things to craft out of old toothbrushes and belly button fluff, a revised battle system, and more.
The game is set to add Multiplayer.
Features
Edit
Deeper character customization
More things to do
More ways to escape
New Combat System
Screenshots
Edit
Ad blocker interference detected!
Wikia is a free-to-use site that makes money from advertising. We have a modified experience for viewers using ad blockers

Wikia is not accessible if you've made further modifications. Remove the custom ad blocker rule(s) and the page will load as expected.